Kyiv - Tbilisi: New Vectors of Cooperation
From the 24th through the 29th of May a delegation of teachers and students of Scandinavian Gymnasium visited the public school #98 in Tbilisi (Georgia). The teachers and students participated in the Week of Slavic Culture.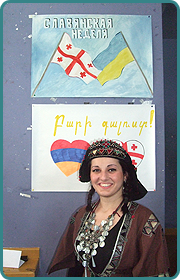 The programme of the week included the 'Slavonic WritingТ Conference and the "Writers and Poets of Georgia" workshop, round tables, open lessons.
The Ukrainian students presented their report on the history of Slavic Writing and talked about the visit of Lesya Ukrainka, the famous Ukrainian poetess, to Georgia.
The teachers had the opportunity to make a close study of the system of secondary education in Georgia, to visit the lessons of the teachers of the Russian public school #98 and their extracurricular activities: school festivals, concerts of classical music, a flash mob of the senior students.
During the visit to Tbilisi the students saw Mtskheta, the ancient capital of Georgia, the Samtavro monastery complex, the Svyetitshoveli Cathedral, the Pantheon of the famous people of Georgia, including the tomb of A. Hryboyedov, a famous Russian writer. The teachers and students were impressed by the hospitality with which all the meetings were held at school #98 in Tbilisi. Many thanks the members of the delegation expressed to Mr. George Momtselidze, the school Principal, who initiated the international meeting in Tbilisi.
The visit to the school ended in signing the Partnership Agreement between Scandinavian Gymnasium and the public school #98 which provides new vectors of cooperation, namely the creation and implementation of joint educational projects, student exchange, video conferencing, tutorials, and workshops.
ItТs worth noting that this has been the second partner school in Georgia for Scandinavian Gymnasium because we have ties of sincere friendship with "Opiza" school in Tbilisi whose students and teachers are going to visit our gymnasium in September 2013.
We look forward to seeing you, our Georgian friends!