New Victories of the "Shogun" team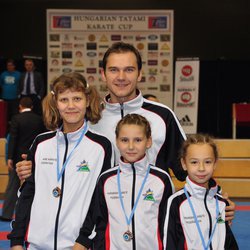 On the 17th of November 44 athletes of the karate "Shogun" team took part in the international tournament УThe 15th Tatami CupФ held in Budapest (Hungary). 600 athletes of 64 teams from Hungary, Slovakia, Slovenia, Croatia, Serbia, Bosnia, Herzegovina and Ukraine competed on 6 tatamis.
The "Shogun" Club athletes won 3 first, 4 second and 12 third places.
Here are the results of the Scandinavian Gymnasium students:
Gold:
Nikita Grishko - 12-13 years (- 50 kg)
Silver:
Artem Volosy - 6-7 years (-22 kg)

Karina Izyurova - 8-9 years (+30 kg)
Bronze:
Artem Volosy - 6-7 years (kata)

Vladislav Pridchin - 8-9 years (-30 kg)

Vladislav Pridchin - 8-9 years (kata)

Daria Shcherbatyuk - 8-9 years (-30 kg)

Maria Koshechko - 10-11 years old (+38 kg)

Maria Koshechko Maria - 10-11 years (kata)